Image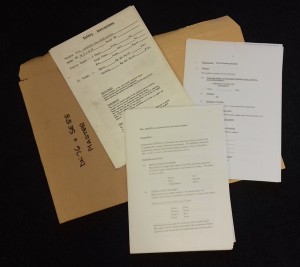 Over the, well, centuries we suppose, Standard Engineering have built, supplied, maintained and supported many, many different machines.  Far more than we can ever remember, and far more than we can still support.  Manuals were invariably produced for most of the equipment.  They range from complete device breakdowns, with every nut and bolt lovingly part-numbered, to basic, hand-drawn efforts.
We have, by no means, all of these documents in our vaults, but are beginning the process of digitising those we do have and posting on our website in the "Spares" section, here: -
http://www.standardgroup.co.uk/shoe-repair-machinery-spares-and-manuals
Each of the manuals there are fully downloadable as PDF documents.
Obviously, the vast majority of the parts on obsolete machines are no longer made or stocked.  However, we believe there is a value in making these old manuals available.  One may include details of how to correctly thread-up an old Blake you might have.  Or suggest how you should re-assemble that ancient cutter holder you have just taken apart!
The on-line manuals prove most useful, when a customer needs a part for a supportable machine and both they and the person at Standard are looking at the same information.  This can be helpful when trying to pin down a specific part for a specific machine.  The customer gets the part they need and we look like life-savers!  Everyone's happy!
Keep checking back on the "Spares" page as more manuals will be added over time.
List Snippet
Over the, well, centuries we suppose