The modern day incarnation of Standard Engineering can be traced back a few short years to the amalgamation of Standard with Whitfield Wylie Ltd in 1999. 
Both Standard and Whitfield had started in 1890's as family engineering businesses, manufacturing a wide range of shoe making equipment. By the 1970's both companies were small departments in much larger organisations.  Standard was a subsidiary of Halma plc, and Whitfield a small cog in the portfolio of Winemanor Holdings.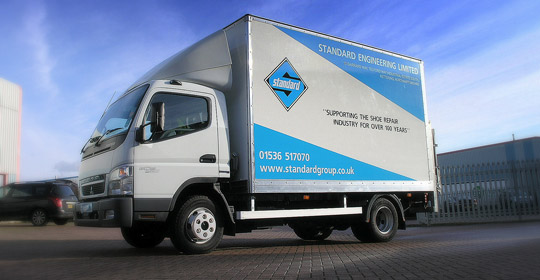 In 1999 Tony Law, the Managing Director and Brian Sperryn, the Sales Director of Standard Engineering conducted a management buyout from Halma.  Now with a more focused management structure the company, along with the shoe making and shoe repairing arms of the business acquired the rights to market and sell the Volumatic range of High Security Disintegrators.  These had previously been manufactured by Standard for Volumatic, another Halma business.
 A year later the new Standard Engineering Ltd. purchased its only UK shoe repair machine competitor Whitfield Wylie Ltd., whose products included the Silca key blank and machinery agency for the shoe repair industry. Whitfield's range of finishing machines ideally complimented Standard's products and their full manufacturing capability in their Kettering factory suited the small batch bespoke requirements of the market.  The newly reformed Standard Engineering Ltd moved into its new home in Lawson Street, Kettering.
 Upon Brian's retirement in 2006 new Sales Director Keith Malyon and Finance Director Ian Holliday joined with Tony Law to oversee Standard's latest move to a new, enlarged premises, in a Kettering industrial estate, ideally placed to serve the whole of the UK.  As of 2010, following Tony's retirement, the company has been owned and run by Keith and Iain. In 2019, Keith purchased Iain's shares and now wholly owns Standard Engineering Ltd
We have an experienced team of employees offering a range of products for the shoe repairing Trade, backed by a team of skilled on-site and service engineers.  Over the last couple of years Standard have refined and developed their machine range to reflect modern requirements of noise and dust extraction with the new Model 720 Finisher with improved dust management, and the Air-Flo range of workstations which filter adhesive fumes.  In addition, we have invested in high quality Hurco CNC machinery. This investment offers us precision engineering and the ability to machine our own parts. 
As a Company, we are now focused on supporting both the Shoe Repairing Trade along with the Podiatry Industry, including the NHS and Universities across the UK and beyond.